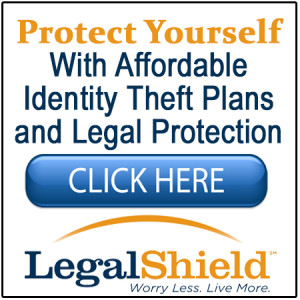 LegalShield provides affordable access to legal services and identity protection services to families and small businesses and can be offered as a voluntary employee benefit of businesses large and small.
Regarding the LegalShield product, I know you're asking yourself the question – how often do I need a lawyer?  I routinely ask my clients about their wills and 85% of them don't have one or it's out of date. Wills, Living Wills and Medical proxies are provided with this service.
Also, consider this. We have all signed a mortgage or a lease, or had a dispute with an auto dealership or car mechanic about warranty work. We have all received a traffic citation. Most of us have experienced having the boss from hell who us treated unfairly.  You get the idea. The question is not how often do I need a lawyer, the question is how often would it have been useful to have one but couldn't or wouldn't pay the hourly rate required?
What about Identity theft? There are at least 25 ways your identity can be stolen.  The FTC says 9 million people a year are identity theft victims. Will this be your year? Every day people have their social security numbers used by someone else to get a job, or have their income tax refund checks hijacked. Driver licenses can be issued in your name – to complete strangers – and tickets or accidents would be chargeable to you. Medical Identity theft alone is a $20 billion dollar problem every year. Imagine applying for long term care or life insurance and being declined because you have a history of some disease like cancer or had a procedure like bypass surgery and it's not true.
Most identity theft services only monitor your credit – and if something happens, that's all they fix. According to the FTC only 16.5% of identity theft cases are detectable on a credit report. The examples listed above may not become known for years and cost thousands of dollars to rectify.  Identity restoration can take up to 600 hours of work and many thousands of dollars for the average person to restore their good name. Our service provides complete restoration with minimal effort on your part.
To see the value of this product I would like you to visit http://www.greatlegalbenefit.com/solutionsforwealth/ for a 13 minute video presentation of the services we offer,